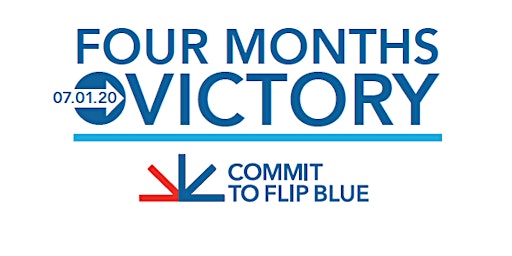 We're excited to host friends, supporters, and new volunteers together for a virtual gathering to jumpstart the path to Blue 2020 victory!
About this Event
FOUR MONTHS TO VICTORY
VIRTUAL COMMIT TO FLIP BLUE GATHERING
Grassroots Organizing Today: Changes, Challenges and Celebrations
DATE: Wednesday, July 1st
TIME: 5:30 to 6:45 PM
PLACE: Zoom Video Conference
Join Commit to Flip Blue as we kick off our push to blue victories in 2020!
We're hosting a fun and fast-paced 75 minutes updating volunteers, donors, and new volunteers on our path to victory in key races in the West.
Topics include:
Updates on the most contested and winnable Senate races
Campaigning and increasing blue voters in the age of COVID19
Translating new activism into massive voter turnout in November
Weekly volunteer opportunities from your home that are having a big impact across the country
A prize drawing and much more!
We're excited to have a speaker from Flip the West and the NAACP as well as opportunities to get more info about virtual phone banking, postcard writing, and texting.
Speakers and topics include:
Welcome introduction and thank you from Jackie Moreau - Founder of Commit to Flip Blue
Senate race updates from Andrew Truman Kim, Field Director & Strategist with Flip The West - "Risky Business - The Next 4 Months to Flip the Senate:"
A Conversation with Sharrone Blanck, President of the NAACP Humboldt County - "Black Lives Matter and Voting"
November will be here before you know it.
Jump start your 4th of July and 2020 Activism by joining us on July 1st as we kick off Four Months to Blue Victory 2020!
WHEN
July 01, 2020 at 5:30pm - 7pm